What is Sea Buckthorn Oil?
Sea Buckthorn Oil: This is a health rejuvenating oil taken out from berries and seeds of Sea Buckthorn plant. It is a shrub that is called as "Hippophae rhamnoides" scientifically. Sea Buckthorn has been used since long time in some parts of Asia and Europe to achieve various health benefits like smooth, wrinkle-free skin, balanced body weight, support cardiovascular health, boost immunity, battle diabetes and blood pressure level.
To revive overall well being Sea Buckthorn comes in tea bag, oil based, dried powder and supplement (tablets, capsules) forms.
Sea Buckthorn Oil contain antioxidants, substances like Carotenoids, Tocopherols, plant Sterols, and nutrients that assist boosting immunity, cure stomach pain, build protection against skin problems, tackle anxiety, stress, allergies, upset stomach and remove toxic or tumor cells.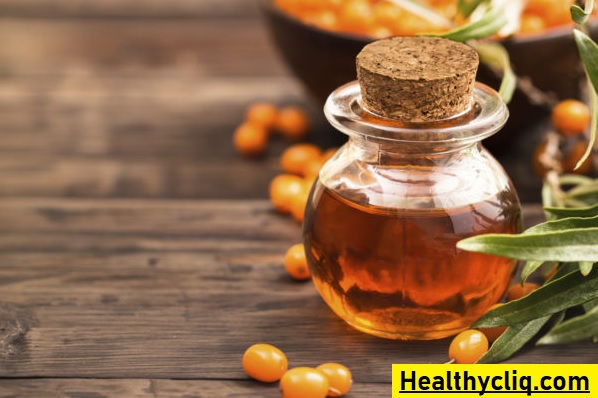 Sea Buckthorn Oil Benefits:
All exclusive benefits of this oil for skin:
Sea Buckthorn Oil carry lots of anti-aging properties that delay the premature aging of facial skin. Vitamins like E,A & C keeps the skin nourished, moisturized and hydrated. Increases the production of collagen that revive the overall skin dermal layer, stop the occurrence of stubborn wrinkles, fine lines, and neck lines.
Few drops of this herbal oil on daily basis or as per the instruction will makes the skin supple, smooth, baby soft and delay the visibility of sagginess, dryness, and remove itchiness.
Massaging the skin with small drops of SeaBuckthorn Oil and other herbal oil will smoothly lighten the brown spots, peel out tan skin, fade away acne marks, and lighten blemishes
Study claims that rubbing this natural oil in proper manner will leads to regeneration of new skin cells/tissues and build the skin immunity to fight climatic change
According to users, this oil is very gentle for inflamed, sensitive skin, and various skin diseases like Eczema, psoriasis.
It is a miracle for people who have Rosacea issues. Using Sea Buckthorn Oil in combination with other herbal ingredients will increase the blood circulation, supply oxygen to the skin, and manage the red, irritated skin.
Applying this natural oil accordingly will remove the oxidative stress, reduce free radicals, decrease dark circles, wrinkles, discoloration and stimulate healing with the help of antioxidants, tocopherols.
Avoid occurrence of cancer cells or tumor:
Sea Buckthorn Oil carry the bioactive compounds that looks after liver health, remove toxins/debris and avoid tumor cells. It stops the cancer cells from spreading in body parts.
Boost immunity:
This oil carry several antioxidants that help in building stronger immunity power to fight back infections, diseases. The high number of carotenoids promote better health, and fight back free radicals that lead to occurrence of unwanted infections.
Avoid adrenal fatigue:
Study shows that people who are suffering from low energy level, get tired, fatigue early then they must add Sea Buckthorn Oil in their regimen. As this oil contain great source of Omega-7 that help in healing anxiety, stress and strengthen the energy, power level. It simply heal the body.
Avoid heart attack:
Number of scientist claims that reducing cholesterol level with the help of this oil is easy. The daily consumption boost the cardiovascular health, increase smooth flow of blood and oxygen to heart and arteries.
Avoid stomach issues:
People who are having ulcer, indigestion, constipation, bloating and gas issue can take Sea Buckthorn Oil without hesitation. It uplift the gut health and remove acidity.
Avoid respiratory issue:
This oil has anti-bacterial nature that help break sinuses mucus, open respiratory tract, avoid congestion, and support proper respiration.
Overall, Sea Buckthorn Oil is extracted from berries and seeds both which work equally on human body. Once can easily find this oil ion drug store but you are suggested to read the instruction properly and take prescription from health specialist to avoid misshaping.
Pregnant women and lactating mothers should consult doctor first.
Sea Buckthorn Oil Side-effects:
To much application on skin will cause topical inflammation, allergy and redness. Very low blood pressure if you using hypertension medicines.